Vught municipality / Gemeente Vught (NB)
Vught is a town-like village located just south of 's-Hertogenbosch. It's an old place and is known to have had two parish churches already in the 10th century. Since 1933 the Vught municipality also consimprises the village of Cromvoirt while Helvoirt was added in 2021.
Vught is een dorp met een stedelijk karakter, gelegen net ten zuiden van 's-Hertogenbosch. Het is een oude plaats die reeds in de tiende eeuw twee parochiekerken telde. Sinds 1933 maakt ook het dorp Cromvoirt deel uit van de gemeente Vught terwijl Helvoirt in 2021 werd toegevoegd.
Vught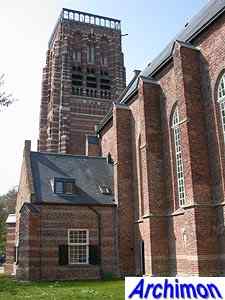 The oldest church of the village is the former St. Lambertuskerk which has been in protestant hands since 1629. Of the original Gothic cruciform church only the tower and the choir remain.
Location: Helvoirtseweg 5
De oudste kerk van het dorp is de voormalige St. Lambertuskerk, die sinds 1629 in protestantse handen is. Van de oorspronkelijke gotische kruiskerk resteren alleen de toren en het koor.
Locatie: Helvoirtseweg 5
The St. Petrus from 1881-1884 was designed by C. Weber and marks the transition from neo-Gothic to neo-Romanogothic in this architect's career. The church was closed for safety reasons in 2005 and, after a restoration in 2011-2012, has been given a cultural and social purpose.
Location: Heuvel 2
De St. Petrus uit 1881-1884 is ontworpen door C. Weber en markeert de overgang van neogotiek naar neoromanogotiek in de carrière van deze architect. De kerk werd om veiligheidsredenen in 2005 gesloten en is in 2011-2012 gerestaureerd. Zij heeft nu een culturele en sociale bestemming.
Locatie: Heuvel 2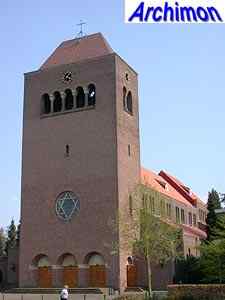 The only catholic church in Vught of architectural importance that is still in use is the Heilig Hartkerk. The church was built in 1924 and was designed by architect J. Donders. The tower was added in 1951 and was designed by C.H. de Bever and C.Evers.
Location: Loeffplein 1
De enige katholieke kerk van architectonisch belang in Vught die nog in gebruik is, is de Heilig Hartkerk. De kerk stamt uit 1924 en werd ontworpen door J. Donders. De toren werd in 1951 toegevoegd en is ontworpen door C.H. de Bever en C. Evers.
Locatie: Loeffplein 1
The O.L.V. Middelares aller Genaden or Mariakerk is part of a big catholic complex in the northern part of Vught. The complex was built in the period 1933-1939 and was designed by A.J. Kropholler. The church, built in 193-1934, is an aisleless christocentric building in Kropholler's usual Traditionalist style. It was closed in 2001 and now has a cultural function.
Location: Mariaplein 9
De O.L.V. Middelares aller Genaden of Mariakerk is onderdeel van een groot katholieke complex in het noorden van Vught. Het complex is gebouwd in de periode 1933-1939 en is ontworpen door A.J. Kropholler. De kerk, uit 1933-1934, is een christocentrische zaalkerk in Krophollers gebruikelijke traditionalistische stijl. Ze werd in 2001 gesloten en heeft nu een culturele bestemming.
Locatie: Mariaplein 9
Another part of the same catholic complex is the Franciscan convent Mariënhof, the chapel of which is shown in the picture. Mariënhof was built between 1939 and 1941.
Location: Mariaplein 8
Een ander deel van de dezelfde katholieke complex is het Franciscanessenklooster Mariënhof, waarvan de foto de kapel toont. Mariënhof werd gebouwd tussen 1939 en 1941.
Locatie: Mariaplein 8
Helvoirt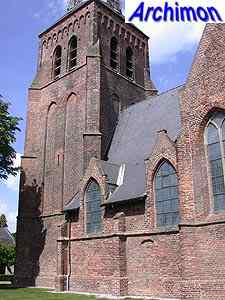 The reformed Oude Kerk or Nicolaaskerk is a cruciform pseudo-basilica in simple Gothic style, built in the 15th century and gradually replacing a Romanesque basilica.
Location: Van Grevenbroeckstraat 12
De hervormde Oude Kerk of Nicolaaskerk is een kruisvormige pseudobasiliek in eenvoudige gotische stijl, gebouwd in de 15e eeuw waarbij geleidelijk een romaanse basiliek werd vervangen.
Locatie: Van Grevenbroeckstraat 12
The catholic St. Nicolaas is a cruciform basilica in neo-Gothic style, designed by architect J.H.H. van Groenendael and built in 1901-1903. It is considered to be this architect's best work.
Location: Kastanjelaan 16
De katholieke St. Nicolaas is een kruisbasiliek in neogotische stijl, ontworpen door architect J.H.H. van Groenendael en gebouwd in 1901-1903. De kerk wordt beschouwd als het beste werk van deze architect.
Locatie: Kastanjelaan 16
Cromvoirt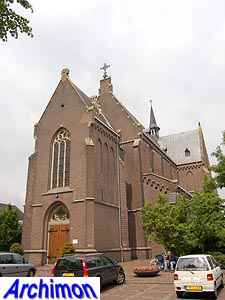 The St. Lambertus is a cruciform basilica in neo-Gothic style, designed by C. Weber and built in 1887-1891. The tower was damaged in World War Two after which only only its lower part was rebuild.

Location: Sint Lambertusstraat 53
De St. Lambertus is een kruisbasiliek in neogotische stijl, ontworpen door C. Weber en gebouwd in 1887-1891. De toren werd beschadigd in de Tweede Wereldoorlog, waarna alleen het onderste gedeelte werd herbouwd.
Locatie: Sint Lambertusstraat 53
Back to the Province of Noord-Brabant