Vught (NB): reformed church or St. Lambertus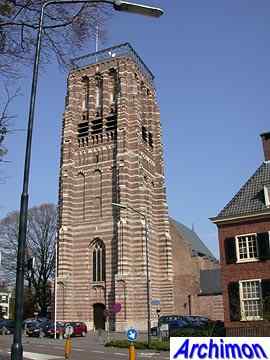 Vught in the Middle Ages was concentrated around two triangular squares, each with its own church. Of these two churches only this one is left, albeit in part only. The now protestant but formerly catholic St. Lambertus is a church with a tower in Campine Gothic style and a choir in a more simple form of Gothicism.
Early in the 16th century the church was built to replace its three-aisled Romanesque predecessor. The tower was constructed of brick, while the tuff of the Romanesque church was used for the decorative layers often seen at Campine towers. In 1562 the tower lost its wooden spire. In 1822 a wooden balustrade was added.
During the siege of 's-Hertogenbosch in 1603 the church was badly damaged. In 1629 it came in the hands of the small protestant minority. In 1819 the remains of the nave were demolished. The transept had already been lowered earlier and in 1822-1823 was given new uses, including that of a vicarage. The current actual church consists of the former choir and crossing. In 1759 the windows were replaced by smaller ones, with white wooden window-frames. Traces of the size of the original windows are clearly visible in the walls. In the walls of the choir are seven early Renaissance stations of the cross, although in badle weathered condition. Inside the church a few preserved parts of the Romanesque church are visible.