Hilversum (NH): O.L. Vrouwe Onbevlekte Ontvangenis (W. te Riele, 1910) part 1/2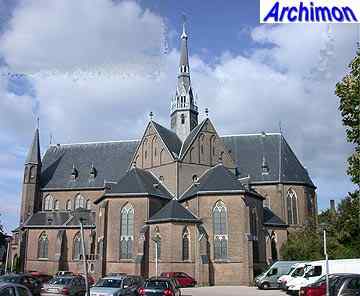 Architect Wolter te Riele designed several centralizing churches during his career. This church is an example and is one of his most important works. Not unusual for Te Riele, the neo-Gothic style is combined with modern ideas about architecture. The church has a short three-aisled nave which ends in a wide hexagonal crossing, on top of which is a crossing-tower. The centralizing nature of the design is more apparent in the interior, which looks very spacious.
Te Riele's lay-out for this church was inspired by that of the Vondelkerk in Amsterdam, which was designed by his former tutor P.J.H. Cuypers. In his turn, Cuypers took inspiration from Te Riele's church for the crossing of his last big church, the O.L. Vrouwekerk in Venlo (L), which was built a few years later.