Amsterdam (NH) part 3/3
The Old-Catholic church is the result of a schism in the Roman Catholic church in 1723. To emphasize their autonomy Old-Catholic churches were mostly designed in different styles than their roman Catholic counterparts. The Old-Catholic H.H. Petrus en Paulus dates from 1914 and was designed by J.W.F. Hartkamp in Rationalist style, a style influenced by the work of H.P. Berlage and more common for protestant churches of that period.
Location: Ruysdaelstraat 39, Oud-Zuid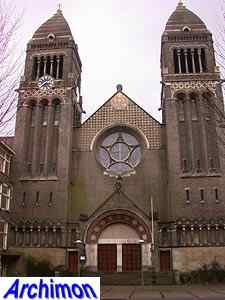 This church, called O.L. Vrouw van de Allerheiligst Rozenkrans but better known as Obrechtkerk, was designed by architects Jos. Cuypers and Jan Stuyt in 1905. It is an early example of a church inspired by early christian and Byzantine architecture.
Location: Jacob Obrechtstraat 28, Oud-Zuid
The reformed Parkkerk, named thus because of its location at the edge of the Vondelpark, was designed by E.A.C. Roest and built in 1918. It is in a moderate neo-Renaissance style. It was closed in 1994 and is nowadays a concert hall.
Location: G. Brandstraat, Oud-West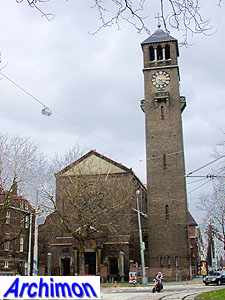 The St. Agneskerk was designed by architect Jan Stuyt and was inspired by the 7th-century San-Agnese-fuori-le-mure in Rome, which is dedicated to the same saint. This church dates from 1919-1921.
Location: Amstelveenseweg 163, Oud-Zuid
The Vredeskerk is a building in Traditionalistic style, designed by architect Jos Bekkers and built in 1924.
Location: Pijnackerstraat 9, De Pijp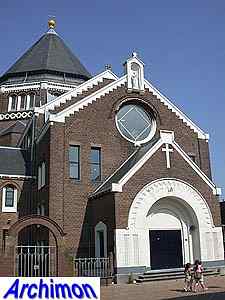 Jan Stuyt also designed the St. Gerardus Majella which was built in 1923-1926. The church is no longer used as such and nowadays houses several offices.
Location: Ambonplein 61-79, Zeeburg
In 1924-1928 the Linnaeushof was built, a complex designed by A.J. Kropholler that formed a catholic enclave with houses, shops, schools and this church, the H.H. Martelaren van Gorcum.
Location: Linnaeushof 94, Watergraafsmeer
A bit unexpected is this church by H.W. Valk, an architect whose work is mostly found in the eastern part of the province of Noord-Brabant. This church, named De Zaaier ('the sower'), was finished in 1929 and is currently in use as a mosque.
Location: Rozengracht
The Raw Aron Schuster synagogue was designed by jewish architect Harry Elte and was built in 1927-1929. Like much of its neighbourhood, it was designed and built in the Amsterdam School Expressionist style. Originally the synagogue was named Ohel Ja'acob.
Location: Heinzestraat 1-3, Oud-Zuid
The Lutherkapel is a Lutheran church in Expressionist style, designed by G.J. Rutgers and built in 1929-1930
Location: Gerrit van der Veenstraat 38, Nieuw-Zuid
Also in Expressionist style is the Apostolic church, designed by C. Kruyswijk and built in 1930.
Location: Archimedesweg 97, Watergraafsmeer
In the same style is the Remonstrant church, built in 1932-1933 and designed by J.A. Roodenburgh.
Location: Diepenbrockstraat 46, Nieuw-Zuid
The Maarten Lutherkerk is a Lutheran church in Traditionalist style, designed by F.B. Jantzen and built in 1936-1938.
Location: Dintelstraat 134
The Gereformeerde Pniėlkerk is one of B.T. Boeyinga's later works. It was built in 1954.
Location: Bos en Lommerweg 187, Sloterdijk
Sloten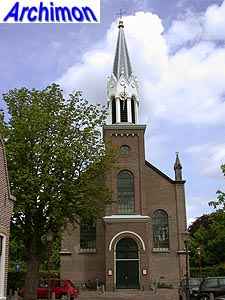 The reformed church of Sloten is a late neo-Classical building, designed by P.J. Hamer and built in 1861. It replaced a church from the 17th century.
Location: Osdorperweg 28, Sloten
The catholic St. Pancratius was the very first church designed and built by architect J. Stuyt. The church in sober neo-Gothic style was built in 1899-1900.
Location: Sloterweg 1184, Sloten
Back to the Province of Noord-Holland