Eindhoven (NB): St. Trudo (C. van Dijk, 1885-1887, L.J.P. Kooken & C.H. de Bever, 1931-1938)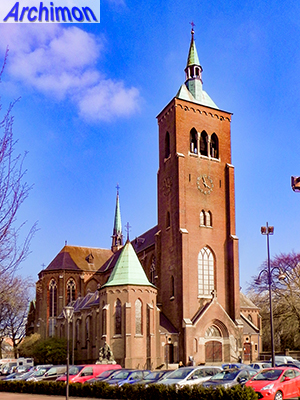 Strijp is one of a series of villages that in 1920 were annexed by Eindhoven and have since become integrated parts of the city. Like the other villages, Strijp had its own church, the St. Trudo. This Gothic church had been confiscated in 1648 by the protestants and the catholics made use of two barn churches until the old church was returned to them in 1799.
In 1885-1887 a new church was built at some distance from the old one, which was demolished. The new church, a cruciform three-aisled basilica in neo-Gothic style, was designed by architect C. van Dijk. A remarkable part of this church is the large hexagonal chapel with the distinctive pointed roof that flanks the choir at its north side. Originally, the side-aisles were covered by single sloping roofs. However, in 1931-1932 parts of the side-aisles were extended by architects L.J.P. Kooken and C.H. de Bever. Each extended trave was closed on its outer side with two walls that meet each other in a corner which is emphasized by the presence of a buttress. These traves were covered by hip roofs. Probably, in the same period the ambulatory was added to the choir and a portal was built at the north side of the transept. These parts of the church differ from the pure neo-Gothic style of the main part of the church and are closer to Traditionalism. The same goes for several more structures, like two chapel-like constructions on the south side of the choir and a flat-roofed space at the south side of the transept.
In 1936 a fire severly damaged the church, destroying the interior and the roof. As part of the repairing, in 1937-1938 the church was extended on the west side with a tower, the external side-aisles were lengthened and a large octagonal baptistry was added to the front of the northern side-aisle, all designed by C.H. de Bever.
In 1944 bombs damaged parts of the church, and it wasn't repaired until 1949.