Maastricht-Caberg (L): H. Hart van Jezus (J.H.J. Kayser, 1876-1877, W. Sprenger, 1900, A.J.N. Boosten, 1936-1937)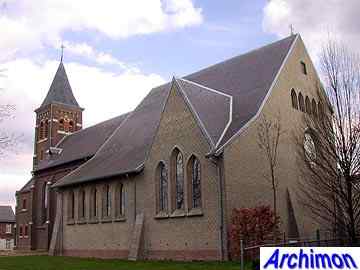 Until this church was built, Oud-Caberg depended on the church of Oud-Vroenhoven in today's Wolder neighbourhood of Maastricht, about an hour walking. Obviously, the villagers of Oud-Caberg were not happy with this situation and wanted a church of their own. Unfortunately for them, the Oud-Vroenhoven municipality managed to prevent this from happening for a long time.
Finally, in 1876 this changed, probably because of intervention by F.X. Rutten, dean of the St. Servaas in Maastricht and promotor of the Sacred Heart devotion. That year work began on a church, devoted to the Sacred Heart, which first served as a chapel of the church of Wolder, but became a parish church a few years later. The church was designed by J. Kayser, who at that time was still building the O.L. Vrouwe van het H. Hart in Sittard, a pilgrimage church dedicated to the Sacred Heart and founded by Rutten.
For Oud-Caberg, Kayser designed a small building in neo-Gothic style, with a one-aisled nave of four traves and a short and lower, square choir. Instead of a true tower, it had a steeple at the front of the roof.
Of the original configuration only the nave remains. In c. 1900 the church was enlarged with a tower, designed by W. Sprenger. In 1936-1937 the short choir was replaced by a big eastern part, a combination of a nave, a transept and a choir, designed by A.J.N. Boosten.