Beek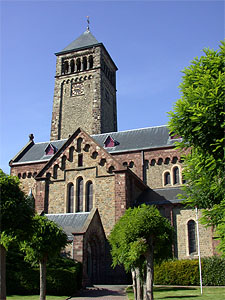 The St. Martinus is a cruciform basilica in neo-Romanesque style, in its original form designed by L. von Fisenne and built in two stages between 1889 and 1893. Originally it incorporated a Romanesque tower, but in 1909-1910 it was demolished to make space for an extension of the nave and a new tower, designed by J.Th.J. Cuypers and J. Stuyt.
Location: Burgemeester Janssenstraat 11
De St. Martinus is een kruisvormige basiliek in neoromaanse stijl, in de oorspronkelijke vorm ontworpen door L. von Fisenne en gebouwd in twee fasen tussen 1889 en 1893. Oorspronkelijk had de kerk een romaanse toren, maar in 1909-1910 maakte deze plaats voor een uitbreiding van het schip en een nieuwe toren, ontworpen door J.Th.J. Cuypers en J. Stuyt.
Locatie: Burgemeester Janssenstraat 11