Beek (L): St. Martinus (L. von Fisenne, 1888-1893, J.Th.J. Cuypers & J. Stuyt, 1909-1910)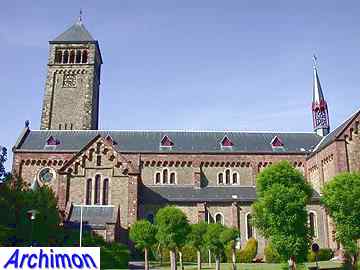 The current Roman Catholic church of Beek replaced an older church on the same location. After the Reformation this church had been used for two centuries by both catholics and protestants, but when it was returned to the catholics in 1835 and the protestants were given a new church of their own, courtesy of the Belgian government that ruled the province at that time, it still turned out to be too small for the entire parish.
Work on a new church started in 1888. Architect L. von Fisenne, who was mostly active in Germany but also restored some churches in Limburg, designed a three-aisled cruciform basilica in neo-Romanesque style. The tower of the old church was incorporated, although largely altered in neo-Romanesque style as well. Part of the design, especially on the inside, was inspired by the St. Amelberga in Susteren, which von Fisenne, under supervision of P.J.H. Cuypers, had restored in 1885. The pillars that flank the central aisle appear to be inspired by those in Susteren; both follow the principle of the alternating system.
The church was built in three stages. In 1888-1889 the choir, transept and sacristy were built. Due to Von Fisenne's wrong calculations, the apses of choir and lateral chapel were built on the public road. In 1892-1893 the nave, side-aisles and the porch at the front were built. The completed church was hardly bigger than the old one. In 1909-1910 J.Th.J. Cuypers and J. Stuyt extended the church at the front. The old tower was demolished and replaced by an extra trave and a second transept with new entrances. A new tower was built next to the new front. Cuypers and Stuyt copied Von Fisenne's style for the extension and used similar materials.