Groot Genhout (L): St. Hubertus (A.J.N. Boosten, 1935-1937)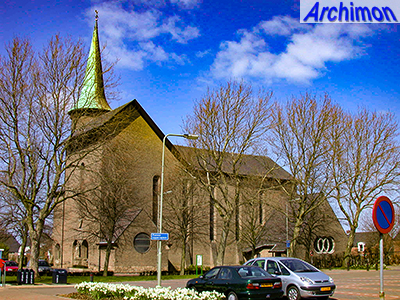 In 1935 A.J.N. Boosten designed a church for a small village that sometimes is called Beek-Genhout, sometimes Groot-Genhout or just Genhout. Like the village the church would be a small building, albeit an impressive one.
A big westwork, inspired by that of the Church of Our Lady in Maastricht, stands at the front of the church. It has a double entrance and only one tall but narrow window. On one side of the westwork is a baptistry. On its other side is a chapel dedicated to St. Hubertus, patron saint of the hunters. Attached to this chapel is a cylindrical tower. The chapel has a round window through which the hunters would be blessed on the 3rd of November each year. The aisleless nave has tall and narrow windows, like the westwork. On each side of the nave is a low transept-arm. Of these, only the one on the south-east side, which was meant to be a childrens' chapel, has an open connection with the nave. The other arm contains the sacristies and is modelled like a small house. The choir is of the semi-round type Boosten used in many of his churches. An interesting detail is how the roof of the choir rests on small columns.
Boosten's original design underwent a few changes before it was accepted by the Episcopal Building-committee. The architect had planned the churchbells inside the westwork, for instance, but had to move them to the tower. The westwork originally was to be two metres taller and covered by a single roof that sloped upwards towards the front. Another point of criticism was the position of the 'St. Hubertus window', which was very close to the ground, but Boosten never changed this.
Construction of the church started on the 31st of August 1936. Important artists from Limburg, like Charles Eyck, Henri Jonas, Joep Nicolas and Charles Vos, took care of the interior. on December the 19th of 1937 the church was consecrated.