Eindhoven, Gestel (NB): St. Lambertus (W. te Riele, 1909-1911)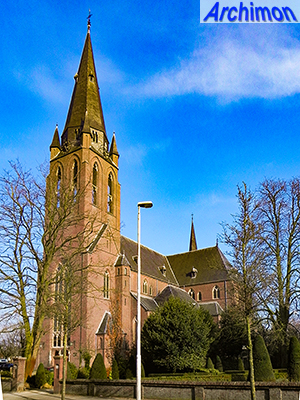 Gestel is a former village which in 1920 was annexed by Eindhoven and lost its village character since. In the Middle Ages it formed a parish with the adjacent village of Blaarthem. The parish church was in the latter village while Gestel had a chapel. After the Reformation in 1648 both buildings were taken by the protestant minority and the catholics eventually built a barn church in Gestel.
In 1798 the catholics got their original church back and it was quickly restored. However, it was still in such a bad state that in 1800 a storm destroyed it. For the next few years the Gestel barn church was used, and the village was chosen as the location of a new more permanent church. A first church was built in 1803, but already in 1833 it was replaced by a bigger church. In 1909 that church needed replacing too, and architect W. te Riele was commissioned to design a new and bigger one, his first in the 's-Hertogenbosch diocese.
It's a big cruciform basilica in neo-Gothic style. The church is built in brick and covered with a combination of slate saddle, shield and lectern roofs. The pointed arch windows come in various sizes and feature natural stone tracery. The slender tower has no buttresses and is crowned with corner turrets in between which is a short octagonal lantern with spire. The nave widens toward the transept while the choir narrows towards the apse, creating a centralizing floor plan. A steeple marks the position between the choir and the apse, which also has a lower roof and has an ambulatory.
In 1972 the bishop of 's-Hertogenbosch wished to close the church and have it demolished. This led to fierce protest from the parishioners who occupied the church for more than two months, which eventually led to the preservation of the church and it becoming a protected monument.