Apeldoorn (G): St. Victor (H.W. Valk & G.H.F. Valk, 1953-1955)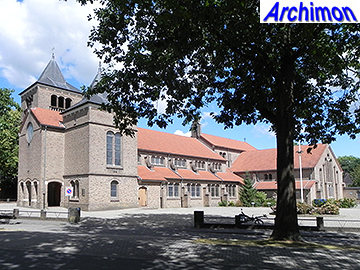 The St. Victor parish was founded in 1942 as the fourth parish of Apeldoorn and made use of a former military club building that had also served as a garrison church. This club and church had been designed by local architect J.G.A. van Dongen and had been built in 1939. It served for only a year, because in 1940 the German army occupied the Netherlands. Its use as a church saved the building from confiscation by the occupiers but to be sure the new parish was founded.

The temporary church served for several more years and after the war was given an extra function as a nursery school. This situation lasted for several more years, and in 1953 it was finally decided to build a true church. Oddly, it was not J.G.A. van Dongen who was assigned the task to design the church. This was due to a disagreement with the priest about a school he built a little earlier. The priest refused to commission Van Dongen, and H.W. Valk was mentioned to him as an alternative choice. The architect was officially commisioned in late 1953 or very early in 1954, and the parish hoped the church would be completed by the end of 1954. However, for financial or practical reasons the construction was not tendered until September 1954. Construction started in early 1955, with the ceremonial corner stone laid in February. That month the parish applied for a subsidy from the municipality, which was denied by the city counsil. On March the 20th 1956 the church was finally consecrated.

Valk, working together with his son G.H.F. Valk, designed a centralizing church with a monumental church, a twin-tower westwork and numerous references to Romanesque. The original design was adapted in several ways, the most important changes being a longer nave and a simpler choir. Like most of Valk's work, the completed church is in Traditionalist style. The general configuration is largely similar to his church in Arcen (L) built in the same period: a two-tower front, a three-aisled basilican nave with a wide main aisle and narrow side-aisles and a wide and long transept. However, while the church in Arcen has a square crossing-tower, this one hasn't. Instead, the choir is only slightly higher than the nave and has the crossing integrated. The nave, with its series of three rounded windows and stepped buttresses, is similar to that of another church of this period, the St. Willibrordus in Alphen (NB).

The church was closed in 2013 and served as a day-care center for two years until in 2015 it was bought by a protestant denomination which reopened it in 2017.