Alphen (NB): St. Willibrordus (H.W. & G.H.F. Valk, 1954)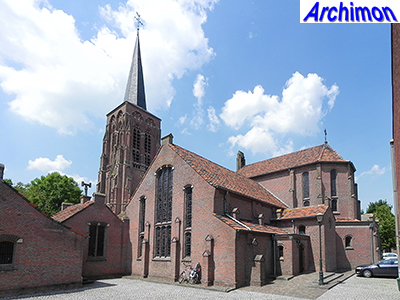 Alphen has had several churches on the same location. Of a 16th century church in the style of Campine Gothic (see Gothic for more information) only the tower remains. This tower was completed in ca. 1559 and represents the late phase of Campine Gothicism. It is three segments high, decorated with niches that become deeper with every higher segment. The tower was badly damaged in 1944 and was repaired after the war and restored in 1966-1968. During this restoration several neo-Gothic changes were removed to bring the tower back to its original shape.
The actual church was a three-aisled cruciform pseudo-basilica with a narrow transept and three windows on either side of the nave underneath small pointed gables. Work on the choir and tower began in ca. 1500. In 1648 the church was confiscated by the protestants, and in 1820 it was returned to the catholics in a bad state.
Already in 1899 plans were made to enlarge it. While restoring the tower architect P.J.H. Cuypers took measurements of the old church and made a design for an enlargement. These were not executed but were possibly a starting point when in 1901 Cuypers' son J.Th.J. Cuypers and his companion J. Stuyt made a new neo-Gothic design which was not immediately implemented. In 1909 the old church was demolished and replaced by the new one. The old tower was retained but with several changes. This neo-Gothic church was itself destroyed in WW2 and the tower badly damaged.
In 1954 the current church was built, designed by H.W. and G.H.F. Valk. It is in a Traditionalist style as typical for Valk's work of this period, as is the layout of the church, with a three-aisled basilican nave and long and wide transept-arms.