Zoeterwoude-Rijndijk (ZH): O.L. Vrouwe Onbevlekt Ontvangen (J.H. Tonnaer, 1895-1896)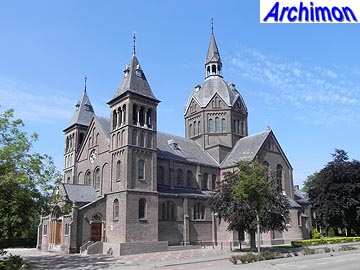 The catholic parish O.L. Vrouw Onbevlekt Ontvangen (Our Lady Iimmaculate Conception) was founded in 1855. Already within four decades after it was built, its first church was about to be replaced.
Architect J.H. Tonnaer designed the new church. It's a three-aisled cruciform basilica in Neo-Romanesque style. At the front, the facade is flanked by two towers. The crossing is crowned with a tall octagonal tower, which is covered by a dome which in its turn bears a steeple. The nave and the transept have wooden barrel vaults.
In the 1930's the crossing-tower turned out to be too heavy for the construction and was about to collapse. With the addition of a buttress and a metal construction the tower could be saved.