Schoonhoven (ZH): Grote Kerk or St. Bartolomeus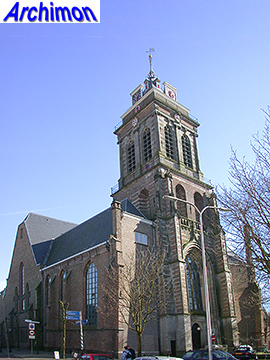 The Bartholomeuskerk was founded in the first half of the 14th century. After a great fire in 1375 it was rebuilt as a three-aisled cruciform church. In ca. 1450 two lateral choirs and the lower part of the tower were added. After that the church was enlarged by widening the side-aisles into a three-aisled hall-church of the same width as the transept, which was completed prior to 1550. The tower, which was built in Campine Gothic style, was not finished. Work stopped probably because the tower was leaning backwards. Only the lower segment and part of the second were finished.
In 1577, during the Reformation, the church was confiscated by the protestants. From 1648 until 1650 the second segment of the tower was replaced by a new one in Renaissance style. A third segment was added in 1659 but was kept low to reduce its weight. In 1649 the choir was seperated from the rest of the church by a wooden wall and was further neglected. The protestants also widened the central aisle at the expense of the side-aisles by replacing the Gothic pillars by new ones in Renaissance style.
From the mid-19th century until 1928 the tower was considered a great danger, and its continued leaning caused damage to the rest of the church as well. Not much was done to solve the problem, although several engineers and architects studied the situation and gave their advice. In 1911 a plan to demolish the church and replace it with a smaller one a few meters to the south caused protests by historians and architects and was ultimately rejected by a majority in the city council. A plan to put the tower straight was contemplated but did not lead to any action.
In 1925 the church had to be closed for safety reasons and services were held in a temporary church made of wood. Now finally action was taken. Architect W. Kromhout made several designs for the restoration of the church, one of which was chosen. Between 1928 and 1935 the church was restored and reinforced, beginning with the tower which was secured, although not put straight. The transept was widened and heightened to provide extra strength to the building. To make up for the loss of space galeries were added to the north and south side.
Although Kromhout's measures were succesful they radicaly changed the look of the church both on the inside and the outside and met with mixed critical reactions. Although the choir was restored as well, it remained seperated from the actual church space and was not given a true purpose, although in 1955 it was used as a bicycle parking, a function soon forbidden by the monument authority.