Naaldwijk (ZH): Oude Kerk or Adrianuskerk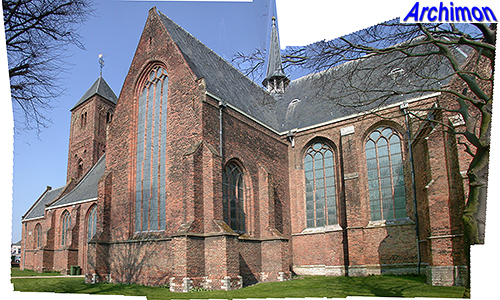 The history of the Old Church or St.Adrianus goes back to the 12th century, although of the original church nothing is left. It must have been a Romanesque, probably basilical, church built of tuff. In the 13th century the current tower was built, which is Romanesque as well but built of brick instead. Originally it was one segment shorter; the current upper part was added in the late-15th century in matching style.
The church was extended with a transept in ca. 1350. After a fire destroyed the church in 1472, a new nave and choir in Gothic style were built while the transept was heightened. Tuff from the destroyed old nave was used for the lower parts of the choir and the sacristy that was built on its south side. In ca. 1500 chapels were built on both sides of the tower, making the church look like a hall-church when seen front the front. In its current form the church is a big cruciform pseudo-basilica, consisting of a wide three-aisled nave, a fairly narrow transept and a choir with the same width as the central aisle.
The church was restored in 1933-1935 by H. van der Kloot Meijburg, who added the portal to the, until then, closed tower.