's-Gravendeel (ZH): reformed church (J.Th. Beljers, 1905)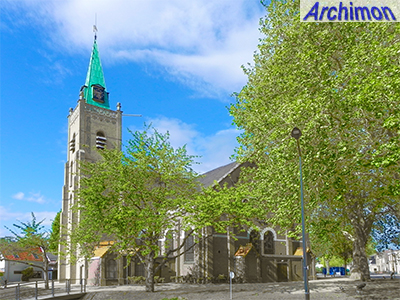 's-Gravendeel was only founded after 1593, when the polder Nieuw-Bonaventura was drained. By that time the calvinist religion dominated the province of Holland, and in 1621 the village got a protestant preacher. Where he held his services is not known, as a stone church was not completed until 1637, a building in simple Gothic style, with a tower at the front.

The church remained largely unchanged until 1839, when it was extended at the north side. In 1904 a fire destroyed the church, and the young architect J.Th. Beljers from nearby Puttershoek was commissioned to design a new church which was also to have an extension on the south side. The architect designed a cruciform church with a Greek cross for its ground plan, in what a contemporary newpaper called 'Romanesque' style. It was probably Beljers' only church.
In 1940 the church suffered war damage and lost its spire which in 1951 was rebuilt.