Delft (ZH): HH. Nicolaas en Gezellen or Raamstraatkerk (J. van Gils, 1908-1910)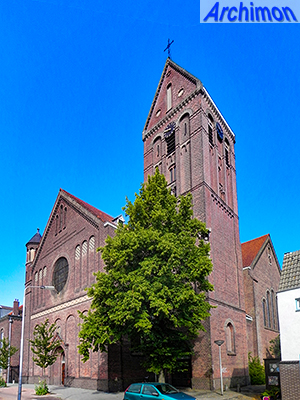 In ca. 1880 Delft expanded with a few streets to the west of the railroad, a neighborhood that would become known as Westerkwartier. The new neighbourhood became part of the territory of the St. Jozef parish, one of two catholic parishes in the city, and after a while the need arose for a filial church. Since the parish was historically connected to the Franciscans the new church was named after Nicolaas Pieck and his fellow Franciscans who in 1572 had been tortured and murdered by protestants in Brielle.

To make space the parish managed to buy a block of sixteen houses and had these demolished in 1908. The created space was big enough for a church but did not allow fthe church to be oriented.

Architect Jac. van Gils was commissioned to design the new church and the presbytery. The architect designed a cruciform basilica in neo-Romanesque style with centralizing elements such as narrow side-aisles, a wide central aisle and a transept as wide as the nave. The internal space had the shape of a Greek cross and allowed an undisturbed view at the altar. The crossing is covered by a large dome while the nave and transept have barrel vaults.

The facade is ornamented with undeep niches and is flanked by a round stair-turret which leads to the organ loft. A large round window provides some light to this part of the church while three narrow windows in the top of the gable only illuminate the part above the vaults. On the other side of the facade, a bit more to the back, is a tower with a saddleback roof.

The nave is short in comparison with the width of the transept, which is flanked by a narrow trave on either side. The transept with its large pointed windows is the main provider of light. The choir has a semi-circular apse with a dwarf-gallery. On the west side of the church the presbytery was built which largely blocks the view at the church.

In 1922 the church became a parish church. In 1971 the church was restored and changes were made to the interior. In 2007 the name of the church was changed to H.H. Franciscus en Clara.