Poortvliet (Z): reformed church or St. Pancratius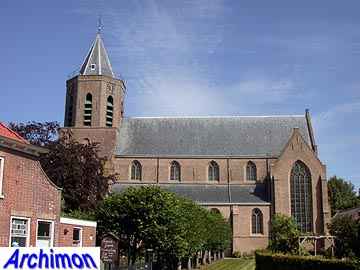 The church of Poortvliet is evidence of the former importance of this village. It's been built in a combination of Gothic styles.
The tower was built around the year 1350, and shows Flemish influence in the form of its octagonal upper part, something not unusual for this province.
The rest of the church dates from ca. 1450, and replaced an earlier church. It's mostly in Brabant Gothic style and has a clerestory, which is rather unusual for a village-church. It was built as a cruciform church, with the transept being lower than the nave.
The church was badly damaged by fire during the Eighty Years War; most likely, protestant troops had set the, then still catholic church, on fire. In 1578 the remains of the church were confiscated by the protestants. Within a decade it was rebuilt, although the government demanded that inside of the church nothing was allowed to remind of the former catholic use of the building. It seems even the graves of catholics were removed. Although the choir was rebuilt as well, it was probably demolished again in 1778. The opening that thus resulted was closed with a wall, in which a window was made.
From 1971 until 1975 the church was restored under the supervision of architect L.H.H. van der Kloot. This included the replacement of several weakened pillars and repairs to the walls.