Hengstdijk (Z): St. Catharina (P.J. van Genk, 1892-1893)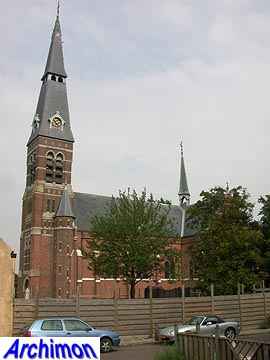 In 1796 the old church of Hengstdijk, parts of which dated from the 12th century, returned in catholic hands, after officially having been protestant for almost 250 years. Officially, since for most of the time there weren't any protestants to use it. And so it fell into decay. It was perhaps not a very remarkable church, but its typically, part square, part octagonal Flemish tower was of historic importance. Unfortunately, in 1892 the church was demolished, including the tower, and a new church was built.
The new church, a one-aisled cruciform building, was designed by architect P.J. van Genk, who had virtually a monopoly on new churches in the diocese of Breda, to which this region belongs. Although Van Genk, like most catholic architects of his time, designed in neo-Gothic style, his churches are very recognizable for his decorative use of natural stone, much like many neo-Gothic churches in Belgium.