Grijpskerke (Z): reformed church or Michaelskerk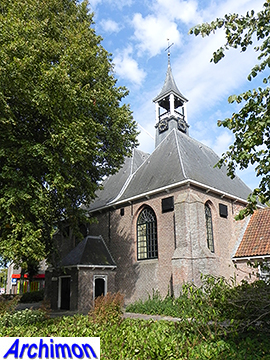 Grijpskerk is first mentioned as a parish already in 1190. The church started as a chapel dedicated to the archangel Michael. At the beginning of the 14th century it was rebuilt as a small, single-aisled, straight-ended church, and about a century later it was extended with a north aisle. Nothing appears to be known about what the church looked like or how big it was. There are no traces of a choir or a tower, and the nave is rather short for a two-aisled church.
Around 1574, during the Eighty Years War, the church was largely destroyed. It took about 10 years before the church was rebuilt, now to serve as a protestant church, using the ruins of the two naves. As common in this region, the Gothic style of the previous church was retained.
In ca. 1770 the building turned out to be in a very poor condition and the carpenter Laurens van de Woestijne was commissioned for the renovation. In this period it was extended to the west with a trave in matching style, which necessitated an adaption of the roofs. In between the two roofs an open belfry was added.