Domburg (Z): reformed church or Johanneskerk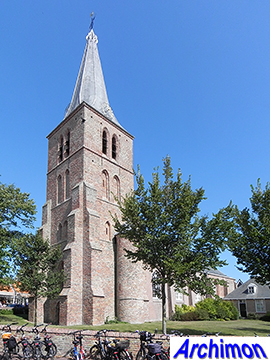 In the 13th century, around the time it was granted town rights (1223), Domburg had two parish churches. While the St. Agatha served the eastern part of the little town and the area to its south, the St. Gerulfus was the church of the western part. The St. Agatha was demolished in ca. 1320 and was replaced by a new church to the south of the town, in what became the village Aagtekerke.
The St. Gerulfus remained as the only church in the town and was largely rebuilt in the 14th and 15th century. The tower was built in the latter half of the 14th century. It's supported by big stepped buttresses. The aisleless nave is a remnant of a much bigger church; in 1848 the 14th-century choir and the 15th-century northern side-aisle burned down and were not rebuilt. The ruins of the main aisle were incorporated in the walls of the current nave when the church was reconstructed in 1849-1855, including a 15th-century portal at the north side.
The church has been a protestant one ever since the Reformation in ca. 1574. The name Johanneskerk is a fairly recent one.