Cadzand (Z): reformed church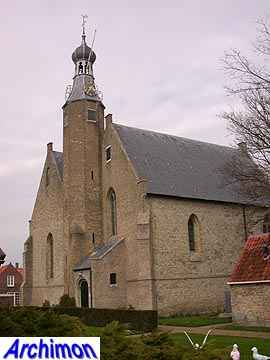 The church of Cadzand, also known as Mariakerk, is one of the oldest churches in Zeeland. It was probably founded in the early 13th century by the St. Bavo Abbey in Gent, in a period when Romanesque was gradually being replaced by Gothic. It is a two-aisled hall-church, built of yellow Flemish bricks. The oldest part of the church is the southern aisle, which was built between 1250 and 1300. The narrow pointed windows are typical for the early Gothic style of Schelde Gothic, as is the still largely Romanesque construction. The northern aisle was added in the early 14th century. At some point also a tower was built.
The church suffered badly during the Eighty Years War and was repaired in 1609-1610, when it had become protestant. The walls of the church were lowered at this time. The tower was demolished in 1677. Instead a steeple was added to the front of the roof of the southern aisle. The facade of this part also had several changes, most notably a row of three small rounded windows which, combined with the steeple, gave this part a new look in Classical style.
In 1930 a restoration started. The walls were restored to their original height, the steeple was removed and the windows in the southern facade were replaced by a single one in Gothic style. Most important was the removal of the steeple and the addition of an octagonal tower to the front, with next to it a new portal.
In 1944 the church was badly damaged by artillery. In 1954 it was once again restored. In 1962 a consistory was built at the south side.