Brouwershaven (Z): Grote of Sint Nicolaaskerk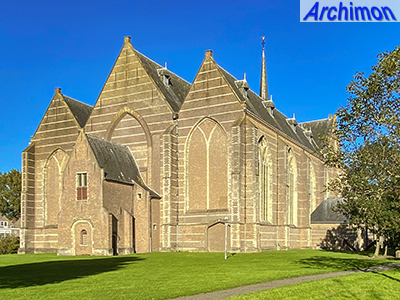 Brouwershaven is a small town, but the size of the big reformed church makes it easy to believe that at one time it was much larger. However, although Brouwershaven was a town of some economic importance in the Middle Ages, the church does not so much remind of this former glory as more of the competition with nearby Zierikzee, a town that was much bigger and had more rights.
Formerly known as St. Nicolaas, the reformed church is a three-aisled hall-church in Gothic style. Because there was no space available in Brouwershaven itself, the church was built just outside the town, on the territory of neighbouring Duivendijke, which became part of Brouwershaven later.
A first choir was built in ca. 1300, to which a nave was added some 25 years later. The choir was replaced by a transept shortly after 1400. A new choir was built, with an ambulatory and radiating chapels, in a style that combines elements of both Flemish and Brabantine Gothic. Work on the three-aisled nave started in the first quarter of the 16th century. The old nave was replaced by the current central aisle, but using the old wooden vaulting. The northern aisle was completed in the second quarter of that century and was one trave longer; the other two aisles were lengthened later. In the third quarter of the 16th century the western and southern portals were added, as well as a long vanished baptistry at the front of the southern aisle and the sacristy between the southern transept-arm and the choir.
The church was repaired in 1743-1744 and 1836. During this last occassion the western windows were closed. The church was restored in 1876-1892 according to plans by E.J. Margry. Other restorations were in 1963, repairing the damage of the big flood of 1953, and in 1991-1994.