Wijk bij Duurstede (U): Grote Kerk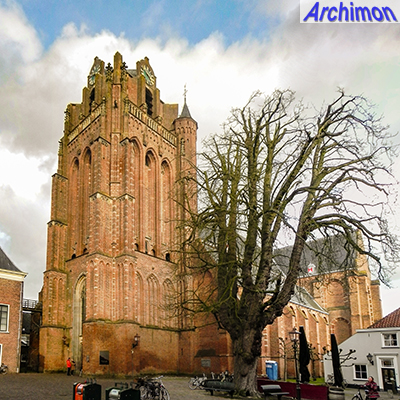 The history of Wijk bij Duurstede began with a Roman castellum which in the 7th century was succeeded by Dorestad, a trade center of international importance. After successive attacks by Vikings by the end of the 9th century nothing more was left but an agrarian village, with its territory divided between the German emperor and the church of Utrecht.
Only in the 13th century things changed. In ca. 1270 a castle was built. In 1300 the settlement became a town. At the latest in 1366 a church was built, an aisleless cruciform church with a freestanding west tower. In the second half of the 15th century the castle became the residence of the bishops of Utrecht and the church was extended into a three-aisled hall-church. The original tower was demolished to make space for the longer nave, and in 1486 work started on a new tower which was never completed.
In the early 16th century a new choir and transept were built. The central aisle was heightened with a clerestorey, turning the church into a basilica. Inside the church the pillars were replaced by new ones at different positions, with the former seven traves becoming six. The northern side-aisle was adapted to the new layout and extended to the west side. It's new roof blinded its side of the the clerestorey. The southern side-aisle was later also converted and given a new roof, blocking the clerestorey on this side as well. The church was now a pseudo-basilica.
In 1579 a fire destroyed the choir. Since there was no longer a need for it, after all the church was confiscated by the protestants that same year, it was never rebuilt.