Cabauw (U): H. Jacobus de Meerdere (H. Kroes & W.C.A. Kroes, 1926-1928)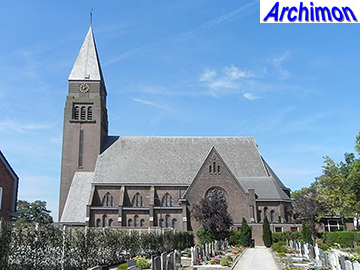 Cabauw was a small polder village with farms laid out along a canal which in the Middle Ages, despite the distance, belonged to the parish of Lopik. In the second half of the 14th century a chapel was build in the village to provide for the first religious needs. In 1588 the catholic faith was forbidden and in 1590 the protestants took possession of the Lopik church as well as the chapel of Cabauw. The chapel served as a protestant church, as well as a school, until 1818. By then only one protestant family was left in the mostly still catholic village, and in 1820 the chapel was demolished.
Meanwhile the catholics of Cabauw belonged to the parish of Schoonhoven which, despite the official ban, remained active and used hidden churches. In 1679 a small barn church was built in Cabauw, thanks to the lord of Cabauw who had remained a catholic himself. Around this barn church a small, denser settlement emerged, a catholic enclave in a mostly protestant region. The barn church served until 1846, when it was replaced by a new church in neo-Classical style with neo-Gothic elements. Although that church soon became too small, the financial situation of the parish did not allow enlargement, let alone replacement.
In 1926 finally enough money had been collected to replace the old church, which by then was in a bad state. That year architect H. Kroes, who had already built a convent and school for the parish in 1912-1913, was commissioned to design a new church. Working in conjunction with his son W.C.A. Kroes, Kroes designed a church in Expressionist style which shows few similarities to his earlier neo-Gothic churches. The assignment explicitately stated that the church should allow all people inside an undisturbed view at the altar and the construction should be sturdy enough to last centuries.
It's a cruciform basilica with a tall tower. The nave is wide and has narrow side-aisles and a clerestorey with big, almost parabola-shaped windows. Chapels fill the space between choir and transept. The church is largely constructed out of concrete but its walls are entirely covered with bricks.