Amersfoort (U): St. Ansfridus (W. te Riele, 1914-1916) part 1/2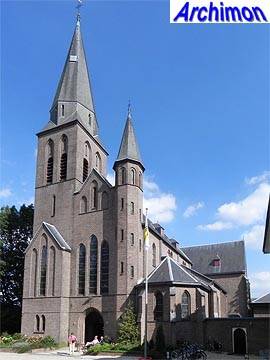 At the beginning of the 20th century Amersfoort expanded in southern direction. In the new Leusderkwartier neighbourhood a new catholic church was planned and built on the eastern slope of a hill, the so-called Berg ('mountain'). The new church was designed by architect W. te Riele and was, as the only church in the world, dedicated to St. Ansfridus, bishops of Utrecht at the end of the 10th century. Construction began in 1915 and was finished in 1916. It's a three-aisled cruciform basilica in late Neo-Gothic style. Instead of levelling the ground underneath, the church was built on the slope as it was, and the extra space underneath the choir was used as a presbytery, since the new parish priest did not have the permission from the diocese to have him build a true house. After a true presbytery had been built, this space served as a communion centre and is now a childcare.
The front of the church is the most monumental part of the church. The relatively narrow facade is flanked by a tower on the north side and a polygonal stair-turet on the south side. At the front of the tower is a protruding chapel, very similar to the one at Te Riele's church in Coevorden, where it is at the side. The tower served as a watch tower during World war Two but fortunately survived.
In 2012 the closing of the church was announced.