Zwolle (Ov)
The capital of Overijssel is located in the north-west of the province. The town is first mentioned in the 11th century. As a member of the Hanseatic League, Zwolle flourished in the 15th century; in the same period it became the center of the Modern Devotion. In the Eighty Years War the local authorities sided with the protestant rebels. In the Dutch Republic Zwolle was one of the three cities ruling Overijssel; the others were Kampen and Deventer. In 1813 Zwolle became the provincial capital.
De hoofdstad van Overijssel is gelegen in het noord-westen van de provincie. De stad wordt het eerst genoemd in de 11e eeuw. Als lid van de Hanze maakte Zwolle in de 15e eeuw een periode van bloei door; tevens werd de stad het centrum van de Moderne Devotie. In de Tachtigjarige Oorlog de ​​lokale autoriteiten de zijde van de protestantse rebellen. Ten tijde van de Republiek was Zwolle een van de drie steden die Overijssel bestuurden; de andere waren Kampen en Deventer. In 1813 werd Zwolle provinciehoofdstad.
The protestant Grote Kerk, also known by its catholic name St. MichaŽl, is a big three-aisled Gothic hall-church built in the 14th and 15th centuries. The tower collapsed in 1682 and was not rebuilt.
Location: Grote Markt 18
De protestantse Grote Kerk, ook bekend onder de katholieke naam St. MichaŽl, is een grote gotische hallenkerk uit de 14e en 15e eeuw. De toren stortte in 1682 in en werd niet herbouwd.
Locatie: Grote Markt 18

The O.L. Vrouwekerk ('church of Our Lady') is the only medieval church in Zwolle that has a tower. The church was built after ca. 1463. It's a Gothic one-aisled cruciform church, which is rare in The Netherlands, at least at this size. After the Reformation the building was used for various purposes. In 1809 it was returned to the catholics.
Location: Ossenmarkt 10
De O.L. Vrouwekerk is de enige middeleeuwse kerk in Zwolle met een toren. De kerk werd gebouwd na ca. 1463. Het is een gotische eenbeukige kruiskerk, hetgeen in Nederland zeldaam is, althans in dit formaat. Na de Reformatie diende het gebouw verschillende doelen. In 1809 werd zij teruggegeven aan de katholieken.
Locatie: Ossenmarkt 10

Many Gothic monastery churches in Overijssel are two-aisled hall-churches. This one, the Broerenkerk,was built between 1465 and 1512 as part of a Dominican monastery. It's now used for exhibitions and concerts.
Location: Broerenkerkplein 27
Veel gotische kloosterkerken in Overijssel zijn tweebeukige hallenkerken. Deze Broerenkerk werd gebouwd tussen 1465 en 1512 als onderdeel van een dominicanerklooster. Zij wordt tegenwoordig gebruikt voor tentoonstellingen en concerten.
Locatie: Broerenkerkplein 27
The Betlehemkerk is also a two-aisled hall-church in Gothic style. It was built as the chapel of a monastery which had been founded in 1309 and was extended several times since.

Location: Bethlehemkerkplein 35
De Betlehemkerk is eveneens een tweebeukige hallenkerk in gotische stijl. Zij werd gebouwd als kapel van een klooster dat in 1309 werd gesticht en sindsdien meerdere keren was uitgebreid.
Locatie: Bethlehemkerkplein 35

The Gothic Walloon church dates from ca. 1390 and was built as the chapel of the beguinage.
Location: Schoutenstraat 4
De gotische Waalse kerk stamt uit ca. 1390 en werd gebouwd als de kapel van het begijnhof.
Locatie: Schoutenstraat 4


The former St. MichaŽl is a Neo-Classical church from 1848, built after a design by Th. Molkenboer on the location of a former hidden church. In 1987 it was rebuilt into apartments, leaving only the front part intact.

Location: Nieuwstraat 41
De voormalige St. MichaŽl is een neoclassicistische kerk uit 1848, ontworpen door Th. Molkenboer en gebouwd op de locatie van een voormalige schuilkerk. In 1987 werd de kerk verbouwd tot woningen, waarbij alleen het voorste gedeelte intact bleef.
Locatie: Nieuwstraat 41
The Gereformeerde Plantagekerk was built in 1874-1875 of a design by townarchitect J.W. Bosboom Sr. in an ecclectic mixture of neo-Romanesque, neo-Gothic and neo-Renaissance elements. In 1894 the facade was altered by architect S.J.H. Trooster.

Location: Ter Pelkwijkstraat 17



De Gereformeerde

Plantagekerk

werd gebouwd in 1874-1875 naar ontwerp van stadsarchitect J.W. Bosboom Sr. in een eclectische combinatie van elementen uit het neoromaans, de neogotiek en de neorenaissance. In 1894 werd de facade gewijzigd door architect S.J.H. Trooster.





Locatie: Ter Pelkwijkstraat 17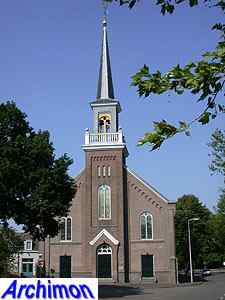 The Doleantie- of Oosterkerk is a building in Eclectic style, designed by J.W. en C.W. Meijer. It was built in 1888 for the Dolerenden, dissident protestants who had left the Reformed Church.

Location: Bagijnesingel 15
De Doleantie- of Oosterkerk is een gebouw in eclectische stijl, ontworpen door J.W. en C.W. Meijer. Zij werd in 1888 gebouwd voor de Dolerenden, dissidente protestanten die zich hadden nafgescheiden van de Hervormde Kerk.
Locatie: Bagijnesingel 15

The synagogue was built in 1898-1899 of a design by architect F.C. Koch, who used the Neo-Renaissance style which at that time was especially popular for new protestant churches.

Location: Samuel Hirschstraat 8



De

synagoge

werd in 1898-1899 gebouwd naar een ontwerp van architect F.C. Koch in de neorenaissance-stijl die indertijd vooral populair was voor nieuwe protestantse kerken.





Locatie: Samuel Hirschstraat 8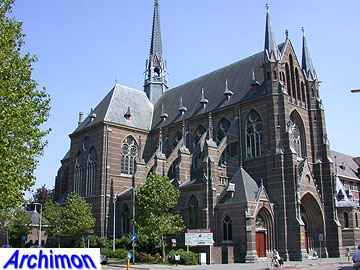 In 1900-1902 a new Dominican church was built after a design in Neo-Gothic style by J. Kayser, who cooperated with German architect G. Pickel, as part of a new monastery.

Location: Assendorperstraat 27

In 1900-1902 werd een nieuwe Dominicanerkerk gebouwd naar een neogotisch ontwerp door J. Kayser, die samenwerkte met de Duitse architect G. Pickel, als onderdeel van een nieuw klooster.

Location: Assendorperstraat 27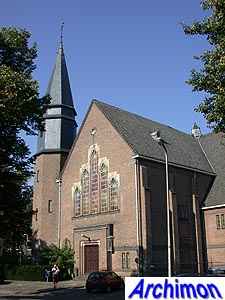 The Geref. Zuiderkerk dates from 1923 and is in moderate Expressionist style, designed by J.H. van der Veen.

Location: Zuiderkerkstraat 31
De Geref. Zuiderkerk stamt uit 1923 en is in gematigde expressionistische stijl, een ontwerp door J.H. van der Veen.

Locatie: Zuiderkerkstraat 31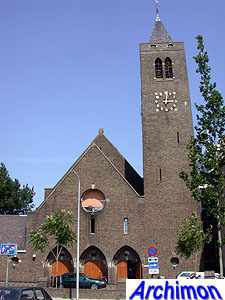 The former St. Josef was built in 1932 and was designed by architect J.H. Sluijmer en G.Th. Ruberg. The church is in Traditionalist style. In the 1990's it was rebuilt into apartments.

Location: Assendorperstraat 205
De voormalige St. Josef werd in 1932 gebouwd naar een ontwerp van architect J.H. Sluijmer en G.Th. Ruberg. De kerk is in traditionalistische stijl. In de jaren 1990 werd de kerk verbouwd tot appartementen.
Location: Assendorperstraat 205
Back to the Province of Overijssel