Vilsteren (Ov): St. Willibrordus (J.W. Boerbooms, 1895-1897)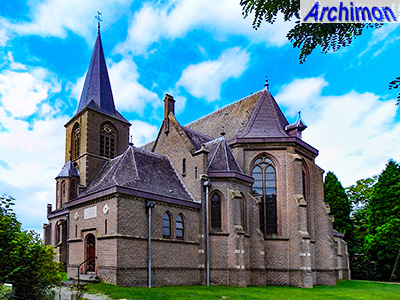 While all of the surrounding area became protestant, Vilsteren remained catholic after the Reformation. This was due to the noble Van Vilsteren family which remained true to the old faith. The village had a hidden church in 1675, and when the Van Vilsteren family sold its possessions in 1717 the new owners were catholics as well.
A first true church was build in 1816 which in 1855 was elevated to a parish church.Because of its small size and bad condition, in 1895 architect J.W.Boerbooms was commissioned to design a new church as a private initiative by W. Cremers, then the owner of the Vilsteren estate. Cremers was regent of the St. Elisabeth hospital in Arnhem of which Boerbooms was the house architect, making him the obvious choice for the assignment.
Boerbooms designed a three-aisled pseudo-basilica with a front tower. What looks like an oddly positioned transept is actually a pair of lateral chapels flanking and internally facing the choir. Attached to the south side chapel is the private chapel of the Cremers family while a similar structure on the north side is the sacristy.
Like all of Boerbooms religious designs, the church is in the neo-Gothic style of the Utrecht School, the prescribed style of the Utrecht Archdiocese. Although the church is mostly built of bricks Boerbooms added a few details in natural stone in the form of layers in the lower part of the tower as well as blocks at the corners of the tower and in the buttresses.