Ootmarsum (Ov): H.H. Simon en Judas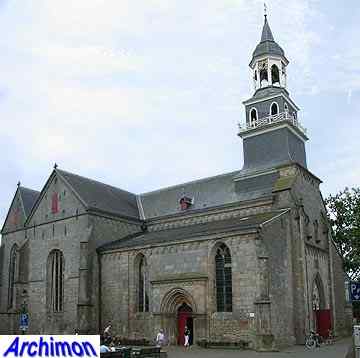 The old church of Ootmarsum is unique for the Netherlands, being the only church in Westfalian Romanogothic style in the country. The church is first mentioned in 1162, but the oldest parts of the current building are younger. Nave and side-aisles date from ca. 1230. The nave is two traves long and is of the pseudo-basilican type, having no clerestory. In ca. 1250 a transept and the choir were added. In 1491-1492 a new late-Gothic choir was added, followed by a second transept east of the old one. Except for one window above the south portal, all windows have been enlarged. The entire church is built of Bentheimer stone.
From 1626 until 1810 the church was used by the protestants.When it was returned to the catholics in 1810, it was in a bad state. In 1842 the tower, which was in Romanesque style and therefore probably older than the nave, was demolished. It was replaced by a facade in early neo-Gothic style and a small tower.