Enschede (Ov): Grote of St. Jacobskerk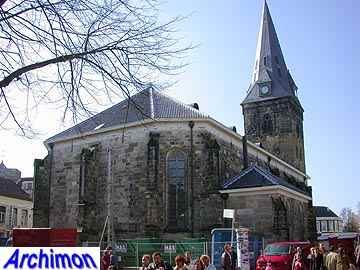 Although Enschede doesn't exactly look like an old, historic town, it had a church as early as the early 11th century. The oldest part of that church's successor, the current reformed church, in catholic times known as St. Jacobus de Meerdere, is the tower, which dates from the 13th century except for the upper segment, which was added in the late-15th century. The bottom four segments are decorated in typical Romanesque style. In the lowest segment is an entrance.
The church itself is a two-aisled late-Gothic building. Like the tower, it is entirely built of Bentheimer sandstone. In ca. 1480 the older church was rebuilt into a two-aisled hall-church by extending the nave with a southern aisle and a second choir. On the north side a sacristy was built.
The church suffered from several disasters and was badly mutilated through the ages. In 1703 the spire was blown off the tower and in 1780 the interior was destroyed by fire. In 1842 the two aisles were merged by removing pillars, arches and vaults. The two choirs were connected as well; on the outside parts of the polygonal closures were replaced by a single, straight wall. Oddly, several buttresses were added to the north side of the nave, one of which blocks the former northern entrance, which is very similar to the entrance in the tower.
After a fire had damaged the church once again in 1862 it was restored by B. Looman, who replaced the narrow pointed windows by larger ones with a round top. The tower was given an octagonal lantern to replace the former spire. In 1926-1928 sagging of the tower urged a new restoration, executed by J. and Th. Stuivinga, who replaced the lantern by a reconstruction of the old spire. The entire church was once again restored early in the 21st century.