Zaandam (NH): Oostzijderkerk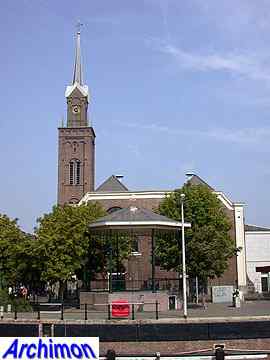 Although no visible part of it indicates it, this church has medieval origins. The medieval St. Maria Magdalena, built in the 16th century, was a three-aisled pseudo-basilica which in 1685 was rebuilt into a two-aisled hall-church with a narrower northern side-aisle. Although it is uncertain it is possible that parts of the medieval church have survived until the present day. Surely the windows and the buttresses are not medieval.
In 1850 the side-aisle was demolished and a new facade in neo-Classical style was added. Also a tower was added in Ecclectic style, which was completed in 1851.