Muiden (NH): reformed church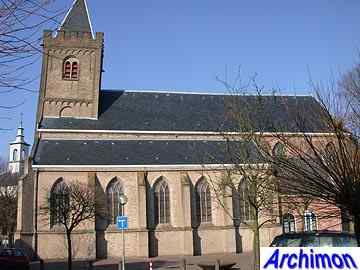 The old church of Muiden dates back to ca. 1150, when a Romanesque church was built. It was an aisleless building with a tower and was built of tuff. The tower still remains. It is decorated in typically Romanesque fashion, with arches and friezes. Like several other church towers in this region, it has battlements at the top. It leans a bit backwards, which is especially notable at the front.
The rest of the church was replaced in c. 1425 by the current building in Gothic style. The first part to be replaced was probably the choir. Tuff from the old choir was used for the outsides of the walls of the new one, which is rather big compared to the nave. The inner sides were built of bricks. After the choir was completed, the old nave was demolished and the current three-aisled nave was built. Once again brick was used for the inside, while tuff from the old nave was used for the outside. The tower now stands inside the church, rather than in front of it.