Enkhuizen (NH): St. Gommarus- or Westerkerk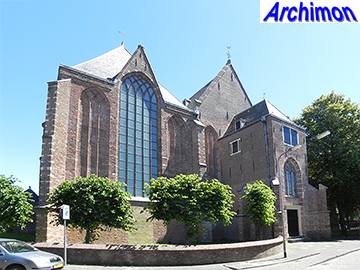 The St. Gommarus- or Westerkerk was built as the successor of the former village church of Gommerkarspel, one of the two villages that in 1355 were united and became the city of Enkhuizen. The location of the former church is unknown. Perhaps it was located outside the city walls but it is also possible it stood at or near the location of the current church.

Construction of the current Gothic church began in 1470 with the eastern part of the current southern aisle. The other two aisles followed in 1471 and 1480 respectively. In 1488-1492 the church was extended with a transept, although at the outside it's not recognizable as such. In 1512-1519 all three aisles were lengthened with four traves at the west end, resulting in a long and wide hall-church. A portal was built at the front of the church. This was probably meant to be a temporary solution, as there were plans to build a tower at this location. These plans were however later abandoned, and in the 17th century the portal was heightened to accomade the bellows of the organ. Instead of a true western tower, in 1519 a wooden bell-tower was built at the east side of the church. This was probably meant to be temporary too. In 1609 it was heightened while its current neo-Classical look dates from 1877-1878 when it was visibly set straigth.

Other additions to the church include a baptistry at the south-western side which was added shortly after the western traves were built. Portals were built at the north and south side in the course of the 16th century, the latter of which in 1614 was extended with a library. In 1603 another portal was added, now to the eastern side, in Manneristic style. The church is known to have had a steeple on its roof, but this was removed in 1740.

For a parish church the St. Gommarus is a very big building, especially considering the fact that there's another big church less than 400 meters to the east. Evidence of the economic success of the town, and of the competition between its two parishes. The church also has a few architectural oddities. First, it has no clearly defined choir on its eastern side; instead all three aisles are closed by a single three-sided closure with stair-turrets. Second are the unique pointed gables at the three sides of this closure, giving space for large pointed windows, the second of which was later bricked in, and at the front of both the northern and southern aisle.

The church had been a protestant one since 1572, when Enkhuizen took the side of the rebellion against Spain. It remained so until 2000. It has a cultural purpose since.