Assendelft (NH): St. Odulphus (A.C. Bleijs, 1887-1888)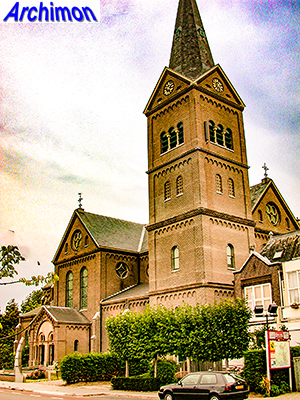 Assendelft remained a largely catholic village after the Reformation. However, the protestant kept hold of the medieval church after freedom of religion was restored in the late-18th century, and replaced it twice. The catholics built a church of their own in 1835, a simple building in neo-Classical style that already twenty years later began to show signs of decay. By 1880 it had also become much too small.
In 1887-1888 itwas replaced by the current church. It was designed by A.C. Bleijs, an architects who did not always conform to the neo-Gothic standard for catholic chuches of that time. Unusual for that time, he designed a church in a pure neo-Romanesque style. It's a three-aisled cruciform basilica with a square tower at the side of the front. The choir has a semi-circular apse. Similar apses close the side-aisles at the eastern side while there's also one in the western facade. Entrances are in both transept-arms.