Steenbergen (NB): St. Gummarus (J.Th.J. Cuypers & J. Stuyt, 1900-1903)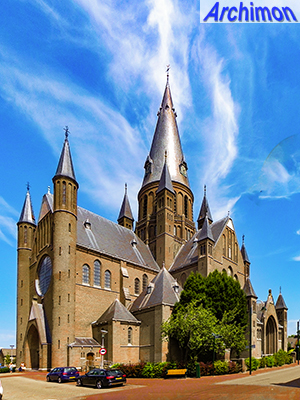 Before the Reformation, there had been a catholic church in Steenbergen since the 12th century. The original church had been replaced by a Gothic church in ca. 1510. In the Eighty Years War it was used as an arsenal and later it became a protestant church. In 1820 it was demolished and replaced, on the same site, by the current protestant church.
In the meantime the catholics of Steenbergen had been attending hidden churches in nearby villages, until in 1707 a hidden church was opened in the town itself. A true church was built in 1831, a building in neo-Classical style to which in 1863 a tall tower was added. However, by the end of the 19th century it had become too small. Plans were made to replace it by a new church, to be built behind it. The old church was demolished in 1902.
The design of the new church was assigned to P.J.H. Cuypers, who made a first design in 1899, but the next year he handed the project over to his son Joseph Cuypers and his associate Jan Stuyt. The design was drastically altered in a more neo-Romanesque style that replaced the original neo-Gothic style, although the building still has many similarities with P.J.H.'s later work. The church is a big three-aisled cruciform basilica with a centralizing ground plan. The most characteristic element of this church is the enormous cone on the cilindrical crossing-tower, an idea that later returned in one of the designs for Joseph Cuypers' St. Bavo's cathedral in Haarlem.
The church was built on 1100 piles, but despite these the church started to sag soon after its completion, which caused great damage to the walls. In 1927 measures were taken to stabilize the church. On the north-side of the transept a new chapel was built to provide extra support, and the portal on the south-side was enlarged. On October the 30th of 1944 retreating German troops blew up the church. Repairs lasted until 1950, although the crossing-tower wasn't rebuilt until 1960.