Oss (NB): O.L.Vrouw Onbevlekt Ontvangen or Grote Kerk (H.J. van Tulder, 1857-1859)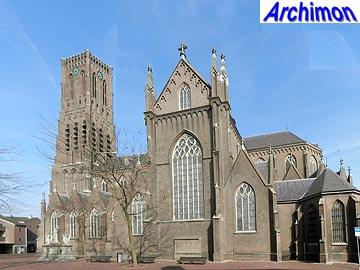 Although the name Grote Kerk is usually used for protestant churches, this one is a catholic exception. This is the oldest and most important church of Oss.
The church was preceded by the St. Willibrordus, a Gothic church from the early 15th century which, after having been used by the protestants for more than 150 years, was returned to the catholics in 1800. In 1855 it was demolished to make way for a new church, designed by architect H.J. van Tulder. It was his biggest church until then and is one of the highlights in his career. It's a large three-aisled cruciform basilica in neo-Gothic style, with a tall tower without spire, a three-aisled transept and an ambulatory around the choir. The traves of the side-aisles and the ambulatory have pointed gables. With the exception of the tower, the church is in a Neo-Gothic style that quite easonably captures the look of a truly Gothic construction. However, the interior of Van Tulder's church is closely related to early Neo-Gothic, with vaults made out of plaster. In this case, the interior was largely modelled after that of the St. Jan in 's-Hertogenbosch.