Oirschot (NB): St. Petrus' Banden
Part 1/2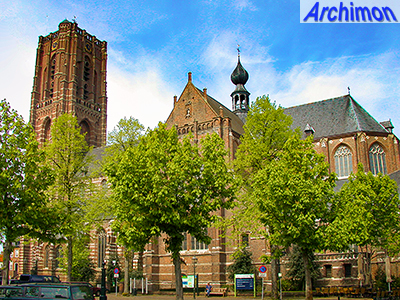 Oirschot's St. Petrus' Banden ('St. Peter in Chains') is a masterpiece of the so-called Kempische Gothiek ('Campine Gothicism'), the specific Campine variant of Brabantine Gothicism (see Gothicism for more information). Unlike churches in 'classic' Brabantine Gothic style, in the Campine variant brick is the primary building material, with natural stone (in this case tuff) only used in for decoration, especially for the towers and mostly as layers.
This cruciform church was built from 1462 to 1520 approximately. It replaced a previous church from 1268 which was destroyed by fire in 1462. The St. Petrus was confiscated by the protestants in 1648 and returned to its rightful owners in 1798. It's one of only a small number of medieval churches that survived the big catholic building- and restoration-craze of the second half of the 19th century, as it still is very much in its original shape, although it has been restored several times since.
Choir and transept are built in a style slightly different style from that of the rest of the church, and are its oldest parts. Almost no natural stone was used here. The choir is noteworthy for its ambulatory which has the radiating chapels built against it. A church in Geel, Belgium has a similar choir, and was constructed in the same period, when both towns were ruled by the same masters, the De Merode family. Also note how the shape and size of the windows of the choir are repeated as blind niches in the transept.
The nave has been built in a richly decorated style with layers of tuff, which however were replaced by limestone between 1887 and 1905, during a restoration carried out by architect L.C. Hezenmans. The buttresses are more decorated here than those at the older parts of the church. Because the walls of the side-aisles are higher than those of the ambulatory, the windows in the central aisle are relatively small. In 1946 a baptistery was built in matching style on the southern side-aisle on the location of a smaller chapel.
The 60 metres tall tower is considered to be the greatest of all towers in Campine style in the Netherlands, being especially richly decorated with niches which get taller and deeper with every higher segment. Originally the tower was crowned by a spire which was lost in a storm in 1558, although other sources say it was a fire, in 1627. In 1904 the whole south-western corner of the tower collapsed, and it took 8 years to repair the damage. In 1944 the upper part of the tower was shot off after which the church caught fire, destroying most of the interior including the famous Gothic wooden pews, and this time restoration would last until 1963. The whole upper segment of the tower had to be reconstructed.