Lage Zwaluwe (NB): H. Johannes de Doperkerk (H.W. Valk, 1951)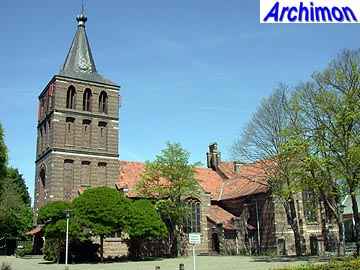 This Catholic church was built after World War Two, in a period when traditionalist architecture had reached its peak. Architect was H.W. Valk, for whom it was one of his first churches after the war, following a restriction of several years on account of his collaboration with the Germans.
Instead of the then dominant sober style of the Delft School, the architect chose to take his inspiration from late Gothicism and the traditional architecture of the countryside of his province. It's a pseudo-basilican cruciform church with a wide transept. The style is remarkably similar to that of Fort Sint- Anthonie, the house in 's-Hertogenbosch the architect built for himself in 1932. Valk later built several similar churches. Bricks and roofing tiles in different colours give the church a colourful look, as do the pieces of the natural stone that have been used at several places that look like they have been chosen at random. The tower is rather conventional and, like with many churches today, is a bit spoiled by antennae for a mobile phone network.