Voerendaal municipality / Gemeente Voerendaal (L)
The Voerendaal municipality is located in the hills region in the south of Limburg. It comprises five villages (missing on this page are Kunrade and Ubachsberg) and a number of small hamlets. The eponymous village is the administrative centre.
De gemeente Voerendaal is gelegen in het heuvelland in het zuiden van Limburg. Het bestaat uit vijf dorpen (op deze pagina ontbreken nog Kunrade en Ubachsberg) en een aantal kleine gehuchten. Het gelijknamige dorp is het administratieve centrum.
Voerendaal




The St. Laurentius is an originally 11th-century Romanesque church of which the nave in 1842-1843 was replaced by a new one in neo-Classical style, designed by J.H.J. Dumoulin, while the transept and choir in neo-Romanesque style, designed by J. Stuyt, were added in 1916.

Location: Kerkplein 37

De St. Laurentius is een oorspronkelijk 11e-eeuwse romaanse kerk waarvan het schip in 1842-1843 werd vervangen door een nieuwe in neoclassicistische stijl naar ontwerp van J.H.J. Dumoulin, terwijl het transept en koor in neoromaanse stijl , ontworpen door J. Stuyt, in 1916 werden toegevoegd.

Locatie: Kerkplein 37
Klimmen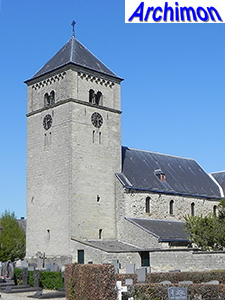 The St. Remigius is a cruciform basilica in neo-Romanesque style, the result of an extensive restoration and extension in 1904-1906 of an originally Romanesque church by P.J.H. Cuypers and his son J.Th.J. Cuypers.

Location: Schoolstraat

De St. Remigius is een kruisvormige basiliek in neoromaanse stijl, het resultaat van een uitgebreide restauratie en uitbreiding in 1904-1906 van een oorspronkelijk romaanse kerk door P.J.H. Cuypers en zijn zoon J.Th.J. Cuypers.

Locatie: Schoolstraat
Ransdaal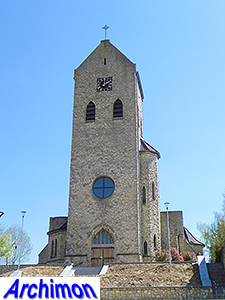 The St. Theresia is an aisleless church in Traditionalist style, designed by F.P.J. Peutz and built in 1931-1932.

Location: Ransdalerstraat 74

De St. Theresia is een eenbeukige kerk in traditionalistische stijl, ontworpen door F.P.J. Peutz en gebouwd in 1931-1932.

Locatie: Ransdalerstraat 74
Back to the Province of Limburg