Venlo (L): Heilige-Familiekerk (A.J. Kropholler, 1936-1939)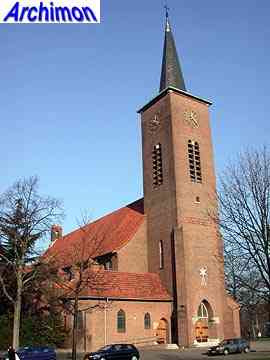 In 1935 a parish was founded in Venlo's new neighbourhood Stalberg. Assistent priest Jos Poels was given the task to organize the new parish. He organized countless events to raise funds for the construction of a church which, in the eyes of Poels, was to be modest and should provide the believers an optimal view at the altar.
Poels chose A.J. Kropholler to design the church, officially in conjunction with local architect F. Stoks. The plan needed the approval of the two members of the Episcopal Buildingcommittee, who objected to Poels' preference for this architect 'from Holland', who knew nothing of the architectural traditions of the province.
A first design from 1936 showed a great resemblance to one of Kropholler's earlier churches, the Maria Middelares in Vught. It was not accepted, and neither was a second design, an altered version of the first. Objections were the width of the nave, the presence of a wooden roof instead of stone vaults and the absence of seperate spaces for children. Kropholler, an architect of fame, was forced to give in to the demands of the Episcopal Buildingcommittee in many ways before his final design from 1937 was accepted. He added side-aisles, gave the church a narrower central aisle and replaced the short square crossing-tower by a slim, taller tower at the front, next to which a baptistry was built. The wooden roof remained, but its construction had been simplified.
Construction of the church started in 1938, in 1939 it was completed.