Stein-Kerensheide (L): St. Jozef (A.J.N. Boosten, 1940)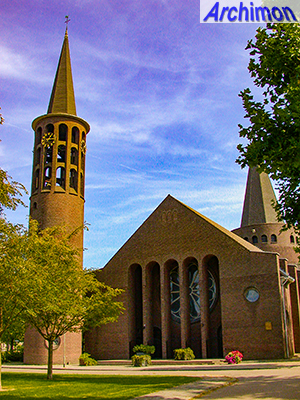 In 1939 the village of Stein was expanded with the new Kerensheide neighbourhood. The next year a church was built there. This church of St. Jozef was designed by architect Alphons Boosten in his typical style. Without a doubt the original plans included some feautures that weren't acceptable for the conservative Roermond diocese, but despite changes to the design the result looks surprisingly modern. After the war many new churches needed to be built to replace destroyed ones, resulting in a slightly easier climate for Boosten to work in.
The St. Jozef is a cruciform church with a big cylindrical crossing-tower which contains the choir and which is closed with an ambulatory and three cylindrical chapels with spires. The nave has a big portal at the front, behind which is a rose-window. At the front of the nave is a big, once again cylindrical, tower, with an open upper part.