Sevenum (L): H.H. Fabianus en Sebastianus (H.W. Valk & G.H.F. Valk, 1953-1955)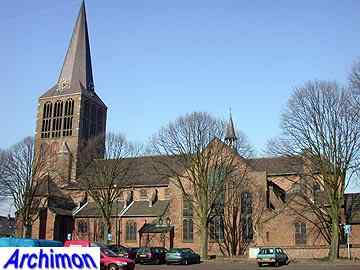 After World War Two architect H.W. Valk and his son G.H.F. Valk built two very similar churches in the province of Limburg, one in Herten and this one in Sevenum. Both were built in the same period and have a similar general layout.
Valk showed his first plans for Sevenum in December 1950 but the final design wasn't approved by the diocese until March 1953. In the meantime there had been various minor changes, but Valk never abandoned the archaic style of the church and even managed to get his design approved without giving in to any of the major objections, with the help of Father A. Linssen who proved to be a loyal ally to the architect and fanatically defended his design.
Like in Herten, the style of the church in Sevenum closely resembles Gothicism, although the pointed arches are replaced by more rounded ones. It's still a christocentric church as usual for Valk, with a wide central-aisle and transept, although the crossing is not emphasized in any way. The choir is even a bit lower in height than the nave. Several heavy flying buttresses support the walls of nave and transept, both of which are covered with stone vaults. At the front of the church stands the monumental tower which has a polygonal stair-turret and is flanked on both sides by chapels. The design of this tower was inspired by the late-Gothic predecessor. The archaic nature of the church's architecture is well illustrated when comparing it to A.J.N. Boosten's H. Lambertus in the neighbouring village of Horst, a church that is a couple of years older.