Schaesberg (L): H.H. Petrus en Paulus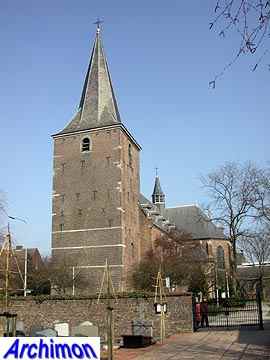 The H.H. Petrus en Paulus of Schaesberg is one of the oldest buildings in this part of Landgraaf, since most of its historic heritage was demolished in the 1960's and 1970's for the sake of modernisation. The church was founded in 1663 by the lord of Schaesberg to serve the St. Pancratius parish of Heerlen which had come under protestant rule two years earlier while Schaesberg had become a catholic enclave.
At first only the nave was built, and in 1666 it was completed. However, when in 1673 the French army conquered Heerlen the St. Pancratius returned in catholic hands, and the Schaesberg church became a chapel. After the French had left the catholics continued their use of the St. Pancratius, although they shared it with the protestants in a simultaneum.
The chapel of Schaesberg was covered with vaults in either 1666 or 1686. In 1688 they collapsed, but soon it was in use again. In 1698 new vaults were added and the church was extended with a tower and two chapels at the sides of the choir. In 1699 it was elevated to a parish church.
The style in which the church was built is hard to specify. The nave is related to Classicism, and as such is a rare catholic example of that style. The tower is quite similar to towers from the Romanesque period in this region. The church was mostly built of bricks, with some decorative use of natural stone. In 1914 the original choir was demolished and replaced with a transept and choir in matching style, designed by J. Stuyt. A chapel was added to the south side of the choir in 1958.