Nieuwenhagerheide (L): H. Hart van Jezus (J. Wielders, 1919, 1924)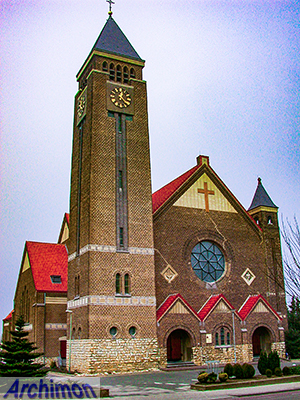 The H. Hart of Nieuwenhagerheide is the second church designed by architect Jos Wielders. It's a big cruciform church in an Expressionistic style, with a few features reminding of Romanesque. The nave only has one aisle, although it's a wide one and offers an undisturbed view at the altar for all. The entire nave is covered by one big dome-vault. The church is mainly built of brick, but the lower parts of the walls are of kunrader stone.
The original design was not fully completed; instead of the original design for the tower, Wielders designed a new one in 1922, which was built in 1924.