Meerssen municipality / Gemeente Meerssen (L)
Small town and municipality in the south of Limburg, located just north of Maastricht. Among the other places in the municipality are the villages Geulle and Rothem.

Kleine stad en gemeente in het zuiden van Limburg, gelegen net ten noorden van Maastricht. Tot de gemeente horen verder onder meer de dorpen Geulle en Rothem.
Meerssen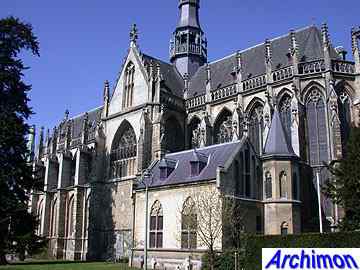 The most important building of Meerssen is the St. Bartholomeus, a big church in Mosan Gothic style. Most of the church dates from the 14th century, but in 1936-1938 it was lengthened by architect Jos. Cuypers and his son Pierre jr..
Location: Markt
Het belangrijkste gebouw van Meerssen is de St. Bartholomeus, een grote kerk in Maaslandse gotische stijl. Het grootste deel van de kerk dateert uit de 14e eeuw, maar in 1936-1938 werd zij verlengd door de architect Jos. Cuypers en zijn zoon Pierre jr..
Locatie: Markt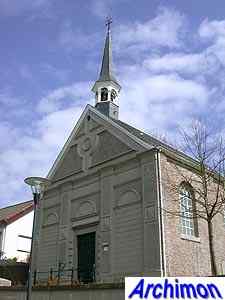 Between 1633 and 1802 the St. Bartholomeus was divided in a catholic and a protestant part. In 1836, when Meerssen was part of Belgium, this so-called simultaneum was ended, and the Belgium government gave the protestants this reformed church in neo-Classical style as compensation. Such churches are called Leopoldskerken ('Leopold churches') in Dutch, after the Belgian king of that time.
Location: Gansbaan 7
Van 1633 tot 1802 was de Sint-Bartholomeus verdeeld in een katholiek en een protestants deel. In 1836, toen Meerssen deel uitmaakte van België, werd dit zogeheten simultaneum beëindigd en gaf de België regering de protestanten deze hervormde kerk in neoclassicistische stijl als compensatie. Zulke kerken worden Leopoldskerken genoemd, naar de Belgische koning uit die tijd.
Locatie: Gansbaan 7

The former synagogue is an aisleless building in neo-Classical style, designed by J.L. Lemmens and built in 1851-1853. The Jewish community was decimated in WW2 and officially disbanded in 1947. The synagogue is currently used for cultural purposes.

Location: Kuileneindestraat 22a

De voormalige synagoge is een zaalkerk in neoclassicistische stijl, ontworpen door J.L. Lemmens en gebouwd in 1851-1853. De joodse gemeenschap werd in de Tweede Wereldoorlog gedecimeerd en in 1947 officieel ontbonden. De synagoge wordt tegenwoordig gebruikt voor culturele doeleinden.

Locatie: Kuileneindestraat 22a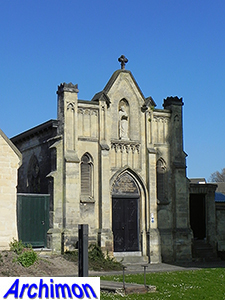 The Grafkapel Petrus Regout is a small Neo-Gothic chapel, designed by an unknown architect and built in 1869 to serve as the tomb of Petrus Regout, founder of the Sphinx ceramics facory in Maastricht, and his family.
Location: Markt 17
De Grafkapel Petrus Regout is een kleine neogotische kapel, ontworpen door een onbekende architect en gebouwd in 1869 als graf voor Petrus Regout, de oprichter van de Sphinx keramiekfabriek in Maastricht, en zijn familie.
Locatie: Markt 17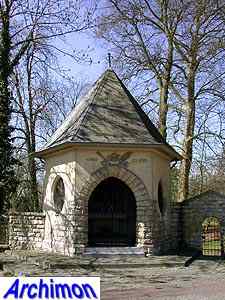 Architect Jos. Cuypers spent his last years in Meerssen. One of his last designs is this Vredeskapel ('peace chapel') which was built in 1941 for the convent of St Joseph.
Locatie: Kerksteeg
Architect Jos. Cuypers bracht zijn laatste jaren door in Meerssen. Een van zijn laatste ontwerpen is deze Vredeskapel, die in 1941 werd gebouwd voor het Sint-Jozefklooster.
Locatie: Kerksteeg
Geulle
The St. Martinus is a church in an eclectic style, designed by J.H.H. van Groenendael and built in 1920. The 14th-century tower and the 17th-century choir of the previous church were integrated.

Location: Kerkplein 6a

De St. Martinus is een kerk in een eclectische stijl, ontworpen door J.H.H. van Groenendael en gebouwd in 1920. De 14e eeuwse toren en het 17e eeuwse koor van de voorganger werden in de kerk verwerkt.

Locatie: Kerkplein 6a

Rothem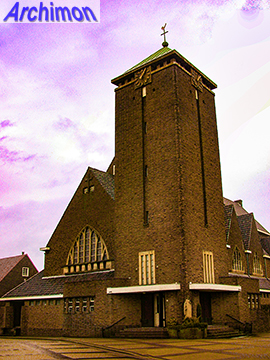 The H. Hart van Jezus (Sacred Heart of Jesus) is a church in Expressionist style, designed by J. Wielders and built in 1928-1929.
Location: Kerkweg 56
De H. Hart van Jezus is een kerk in expressionistische stijl, ontworpen door J. Wielders en gebouwd in 1928-1929.
Locatie: Kerkweg 56
Back to the Province of Limburg