Groningen (Gr): Martinikerk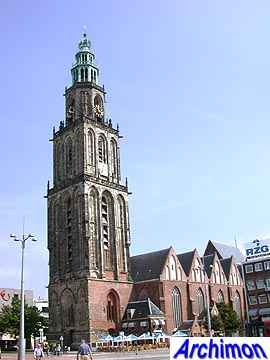 The most important church of the city is the Martinikerk, of which the oldest parts date from the 13th century. Originally this was a basilican cruciform church in Romano-Gothic style, with a choir with a semi-circular apse. This church replaced a simpler and smaller tuff church which itself was probably preceded by at least one wooden building.
Of the 13th-century church the transept and crossing as well as two vaults of the nave remain. Most of the walls of this church were demolished later, when the side-aisles were removed and the transept was rebuilt. Only at the northern transept-arm are some parts left.
In the 15th century the church underwent a major change. The old choir was replaced by a new one, the current Gothic choir with ambulatory.
To the north of the choir are the sacristy and a chapel.
Also in the 15th century the nave was rebuilt. The side-aisles were replaced by new aisles the same height and width as the central aisle, resulting in a hall-church. The church was lengthened with two traves on the western side. Until 1687 the traves were crowned by gables, which were reconstructed during a recent restoration.
The tower dates from 1469-1482 and has become the symbol of the city. It was built of grey natural stone, in a much richer Gothic style than any other part of the church.