Garmerwolde (Gr): reformed church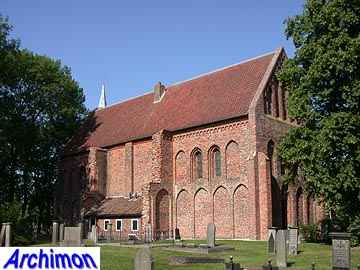 The reformed church of Garmerwolde was built in the third quarter of the 13th century at the height of Romanogothicism, which in that time was a very common style in this part of the country. As usual for a Romanogothic church, most of its walls are decorated with numerous niches, in this case at two different levels, not counting the gables. Only the eastern walls are executed slightly simpler, with less and taller niches.
Originally it was a cruciform church with a seperate-standing tower. Despite renovations in 1845, the church was in a bad state ten years later. Plans were made to demolish the church and replace it by a new one, designed by architect J. Maris. In 1859 the nave was demolished, leaving only the transept and choir, as well as a few small fragments of the nave, of the actual church. Thankfully the plan to replace the church was abandoned; instead parts of the church were simply closed.
During a restoration in 1941-1943 many vanished details were reconstructed, while the outlines of the nave were marked with stones.