Zoelmond (G): reformed church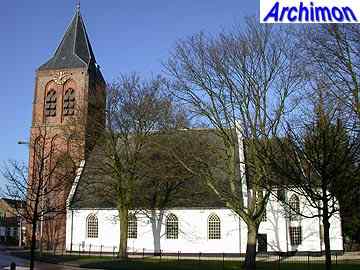 Like other churches in this region, the church of Zoelmond is a Gothic three-aisled pseudo-basilica with all its aisles covered by a single roof.
The origins of the church date back to a chapel built in 1404. Parts of this chapel have survived in the current church, more specifically the wall between tower and nave. In ca. 1420 the chapel became a parish church and the tower and choir were added. The chapel itself was probably replaced by the current nave in ca. 1447.
After the Reformation a storey was built inside the choir. In the 19th century the church was plastered. During a restoration in 1952-1953 the southern wall and the roof were almost completely renewed.
The most interesting part of the church is the tower, which features early influences from Lower-Rhine Gothicism like the detailed edges of the niches and, similar to the tower of nearby Zoelen, diagonally positioned buttresses in its upper storey.