Wilp (G): reformed church or Dorpskerk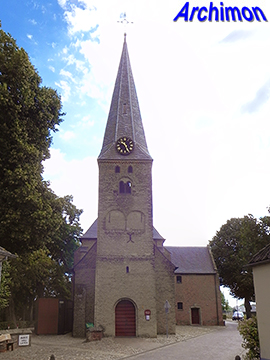 The Dorpskerk ('village church') of Wilp is one of the oldest churches in the Netherlands. The village Wilp emerged as a settlement around a water source near which a pagan temple stood until in ca. 765 the English missionary Lebuïnus replaced it with a small wooden chapel. The church did not last long and was probably succeeded by wooden constructions until in the 11th century a new church in Romanesque style was built of tuff, dedicated to St. Lebuïnus. The current aisleless nave is all that remains of that church, although it did not survive without numerous changes. Its current condition is the result of a major restoration in 1949-1952.

In the 12th century the tower was added, also using tuff, and in ca. 1500 it was heightened with a segment made of bricks. The original Romanesque church had a semi-circular apse which at the end of the 15th century was replaced by the current much higher Gothic choir. In that same period a transept-arm was built at the south side of the choir, but this part of the church was completely replaced in the 19th century. An arch in the western wall of the choir seems to indicate there were plans to replace or at least heighten the nave. Old drawings of the church, if they are correct, show that the choir at its western side once had a pointed gable. It's not known when or why it was removed. Obviously the odd hip roof is of a later date.

In 1598 the St. Lebuïnus was taken from the catholics to become a protestant church. The nave was used for several purposes since, while the choir was used as the actual church. The church suffered badly during fighting between German and Canadian troops in April 1945. The choir was especially badly damaged and the 19th-century transept-arm was completely destroyed. The restoration of 1949-1953 resulted in the reconstructed Romanesque appearance of the nave, the reconstruction in Gothic style of the choir and its vaults, the removal of two heavy buttresses at the front of the tower and the construction of a new transept-arm in Traditionalist style.

More recent is the addition in 2015 of a rusty metal box with toilets and catering facilities at the north side of the nave, needed for the increase in social and cultural activities in the church.