Wadenoijen (G): reformed church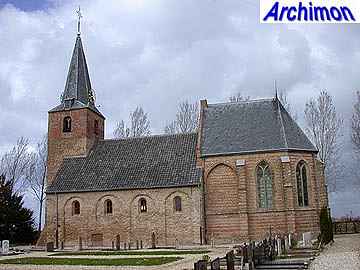 This church is one of the oldest of the Netherlands. In ca. 1100 a small Romanesque church was built on what today is the edge of the village. The walls of the one-aisled are made of tuff and are decorated by large niches with undeep round-topped niches, in which the windows are. In ca. 1200 half of the western trave was demolished to provide stones needed for the construction of a tower. This tower is partly built-in. In ca. 1250 it was heightened using bricks. The choir was replaced by a new Gothic one in the 15th century, using both tuff and bricks. On the south-side it has a peculiar wide pointed niche.
In 2003 the church, which suffered badly from damage by moisture, was restored.